Bronte sunrise today, Chippendale pollution yesterday
Last Friday morning I swam in Bronte pool.  At 19 degrees the pool was clear amidst a clear sky, the light and the moment exactly like the moment Leonard Cohen sings of  . . . " There is a crack in everything, that's how the light gets in . . . " (Anthem).
Diving in, there was just silence in my monkey brain and pure sensual pleasure at being alive.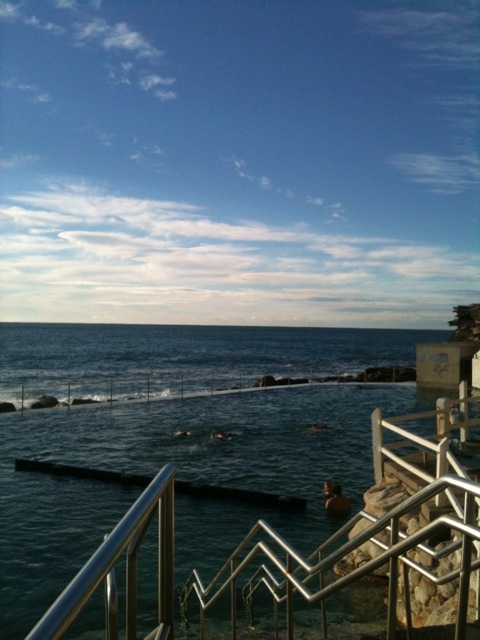 But after the gifted moments I got out of the pool and considered the sea.
Then I remembered walking a few days before down the street in Chippendale where I live past four workers and a truck.
They were spraying poison on what they called "weed's in the recently built garden intended only to clean stormwater before sending it away, wasted, to pollute Sydney Harbour and thence to the ocean I was swimming in.  We use the 'weeds' to cook and make salads with but no longer from there but from our road gardens which we've managed to have exempted from the poison spraying.  Chickweed that's shown in the photo below and which they were spraying is a food used in fine restaurants like Tetsuyas and in our own fine kitchens here in Chippo.
I smiled thinking of this silliness as I looked out over the pool and the ocean; how else to deal with arrant council naughtiness?  Cohen's right here too where there's ignorance – even in the spraying and the needlessly dying weeds-that-aren't there is light getting in – you just have to go for a swim or breath out to find it.
Oh well, we'll stop this useless spraying one day, won't we?
Hang on ocean, we're coming,
M