Sustainable house using bamboo in Bali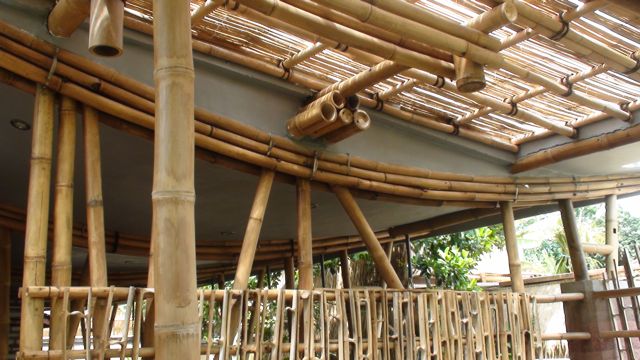 Here's some good news about a sustainable house in Bali that's used bamboo in several ways.  Here's how I heard about it from the owner, Michael Huffman:
Hello Michael
I met you while hiking in the Blue Mountains in 1991 or 1992. I read Sustainable House and was hooked on building something some day based on your principles.
I eventually decided to build in Bali because of fewer zoning requirements and cheaper labor than where i live in Seattle.
I completed the house last week and other than telling GREEN magazine (hoping to expand the likelihood of others building sustainably) a few minutes ago I wanted to let you know you were the inspiration.
I attached a generic write up, i.e. from a layman's point of view and some photos.
Regards
Michael Huffman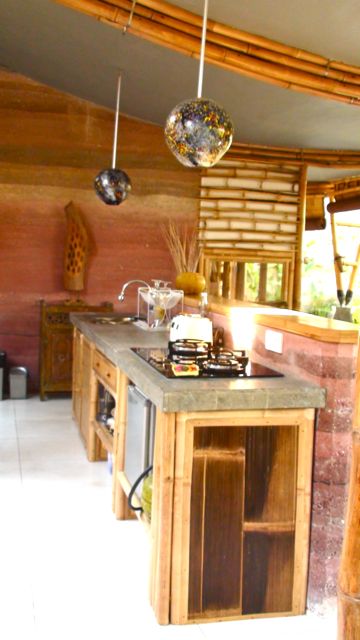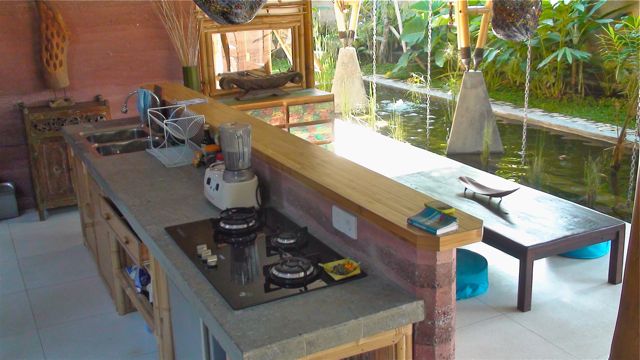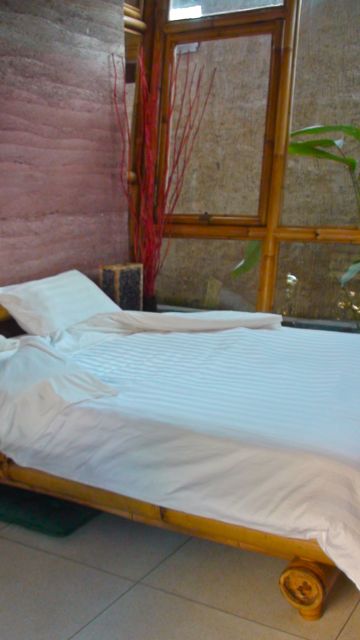 Michael has provided a detailed list of materials, design ideas and background information which is a useful resource so I'm copying it here.
"
MICHAEL HUFFMAN'S GREEN HOME –
Nyuh Kuning, Ubud, Gianyar, Bali Indonesia
Featured in April 2013 in: greenasiaforce.com…
Recent Photos: www.airbnb.com…
This home represents my quest to build a green, eco-friendly house in Bali, Indonesia. The goal was to use all natural materials from within a 50 mile radius of the house project instead of the energy-intensive concrete block, unsustainably-harvested tropical wood, and tile roof villas most commonly built by foreigners in Bali that are as energy intensive to build as they are to maintain.
One of the main philosophies in Bali is 'Tri Hati Karana", i.e. 'do no harm to each other, to the earth or to God'. Building this house was my attempt to embody those principles and to set an example for green building in S.E. Asia. The goal was to make the house look modern and as a design element to be totally surrounded by water to have the feeling of being on a boat to clearly delineate the living space as a private retreat.
STRUCTURAL + DESIGN:
Rammed Earth Walls : Four Hand Designed, one-of-a-kind for structural support and/or architectural interest reminiscent of the interior of the Grand Canyon. Walls use only 5-8% Portland cement, limestone, pigments and soil (tanah) from the job site so we did not need to truck/lorry the soil to a landfill. A Rammed Earth specialist from Vancouver designed and built the walls with a workshop with builders from Norway and Victoria, B.C.
Energy Efficient by Design:

Maximizing airflow and ventilation with West to East wind dynamic from curved upturned edges of ferro cement interior ceiling.
The architect created a roof cavity between the concrete flat roof and the ceiling by designing the ceiling to be curving upward to ensure the thermal performance of the house. The cavity acts as a buffer to prevent strong sun heating up space underneath.
The house is mainly naturally ventilated. Air-conditioning is used only in master bedroom.
Key Learning: While main design consideration was for cross ventilation and so the edges of the roof were curled up, seasonal rains were not accounted for so bamboo blinds (Kray) with canvas on the exterior were added.

'Green concrete' to minimize amount used of energy intensive concrete.

Bamboo reinforced concrete roof that uses less concrete by volume and the top concrete roof layer has a lighter weight.
Ferro cement interior curved roof ceiling. A thin coat of Portland cement was applied by hand to woven metal mesh, which is lighter and stronger than solid concrete. Local Balinese ferro cement statue artists were employed to make the ceiling. This was a slightly more expensive method because of manual application but uses less cement.

Local Balinese Bamboo used for: structural columns, walls, shelving, cabinets and furniture. Bamboo is a renewable, local grass considered a 'carbon sink' because it grows faster than trees and takes a lot of carbon dioxide out of the air releasing ample amounts of oxygen.
Grey Water Treatment:

Kitchen: Grease trap from kitchen (2 recycled plastic trash cans filled with coconut fiber (ejuk) act as pre-filter cleaning before being added into fish pond
Bathroom: Wetland area uses tropical plants (kaladi), gravel and sand as a sub-surface filtration process before the fish in the surrounding ponds glean nutrients from any residue from the organic soaps.

Rainwater Harvesting directs roof runoff for garden use during the not-as-wet season and to feed overflow to the pond system as well. Ponds do not need well water used for the main house and do not deplete water table which is rapidly depleting in Bali due to over development of non-sustainable methods.
Tanah Taro Perimeter Walls: Earth used from site taken during excavation was used for adobe-effect on perimeter property walls made of cement block instead of using high VOC paints.
Antique, Teakwood Joglo bedroom with morning porch. This is an example of a re-using an antique building that would have otherwise been burned as fuel. Wood windows that can be closed if raining or open for ventilation.
Impermeable Pavers for parking and near temple
Reclaimed tough and weather-resistant ULIN wood steps, bridges and dining room table.
Low consumption flourescent light bulbs. Natural daylight management  is done using bamboo kray roll up blinds on both sides of the house.
Durability – Lesson Learned: Initial floor was bamboo but it was not properly installed (lack of cement sub floor) so it was removed after four months and a cement and terrazzo floor was laid to give the otherwise floating structure grounded solidity and durability.
Air Flow – Wet areas such as kitchen, shower and toilet are semi-opened thus ensure free-flow air circulation.
LOCATION:
'Inner-village building site': The land for the project site was not previously used for rice or vegetable production prior to building which is typical of foreigners looking for 'rice field views'. The small inner city lot was one of only a handful remaining within walking distance to the organic yoga village of Ubud.
Convenient Local Location that encourages use of bicycles and walking to Ubud instead of car or motorbike further reducing fossil fuel consumption.
Nyuh Kuning is a safe, clean village on the other side of Ubud protected from the 'green lung' of the Ubud Monkey Forest, recently voted by the Indonesian Government as the cleanest village in Indonesia.
LIFESTYLE:
Minimal Footprint Living. Simple, efficient design with no wasted space. Maximize appearance of open space with open dining and living room areas while minimizing overall size to give 'just right' size.
Entertaining-focused kitchen with rammed earth island wall containing a premium butane gas range, extra large local Bali green stone countertop, bamboo countertop breakfast bar/observation seats, spot lighting over sink and stove, and small energy-efficient refrigerator
Rain from the roof empties into bamboo gutters and then is channeled down rain chains above pool for a Japanese aesthetic.
LOCAL ECONOMY:
Built primarily by human labor with minimum power tools.
Ninety-percent of the labor was done by carpenters, cement craftsmen, bamboo workers from Nyuh Kuning and paid fair wages that are higher than cheaper labor imported from Java. Using local Balinese encouraged the artisans to keep up their generational artisan crafts instead of becoming 'taxi/transport' drivers.
Material Delivered was from local suppliers: river stone, gravel, bricks, bamboo.
"