Carriageworks Kitchen Garden stall at Eveleigh a buzz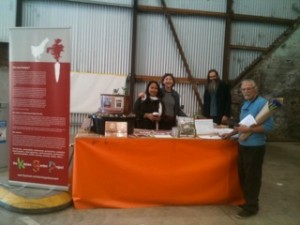 Alice, Vera, Stef and Bob
Holy stalls Batman.  That was fun.
Yesterday Alice, Vera, Stef and I met so many terrific supportive and energy-full folk yesterday at our community kitchen garden stall at Everleigh Markets.
Truly, Earth can give a bloke a good day every now and then and the black dog can be locked up in its kennel.
Forty-eight signatures for the Sustainable Communities Plan.
Several copies taken away by designers, community networkers . . . we're on a roll.
Met the mover and shaker Siobhan Toohill who gave me a card for her new business, Pure and Applied: www.pureandapplied.net…  Good luck with it, Siobhan.
Met Bob, one of the gardeners who's worked on the road gardens in Darlington, Chippo and elsewhere. The rising star (I reckon so, anyway) Ash Berd, turned up – her video about the Plan is a professional triumph for a person making their first video:  vimeo.com….
And caught up with Andrew Muscat, a farmer from Richmond; says he's been getting rid of winter weeds in summer and summer weeds in winter and he can't understand the weather anymore.
Tried some new mushrooms I found called Nameko; grainy texture and surprising sharp aftertaste when eaten raw; will experiment in the kitchen and report further.
Local markets are the belly of a village and it's there we can find so much more than food – community, friends not seen, new ideas, farmers who we can give thanks to, and much more.
May the markets be with us,
M